Your body temperature
regulation master
Sweating? Overheating? Bad sleep every night?
You need a personal body temperature regulation master.
Our inspiration comes from human body. A good bedding is designed for body's need in shape and texture. Balanced temperature is the key for deep sleep.
Cool from outside to inside
The fabric is powered by NanoTex® coolest comfort which dries 200%+ faster than cotton. Filling with premium INVISTA cooling fiber, it's cooler and more breathable. It can maintain your bed at a cozy temperature. Keep you warm in the winter and cool in the summer.
Soft Feeling
for A Soundly Sleep
We use high quality, ultra-soft 120gsm double-brushed microfiber fabric, softer on touch. We use a mix of ultra-soft 3D spiral Siliconized fiber and Supportive 7D spiral Siliconized fiber with Invista® Fiber, providing brilliant cozy and cooling feeling. The true feeling of sleep on a cloud!
Tired of using Vitruvian Man to represent ideal human body proportions, painter found that Sleep Zone® Comforter had the same features, so he decided to change traditional method. The most precious piece in our art museum collection.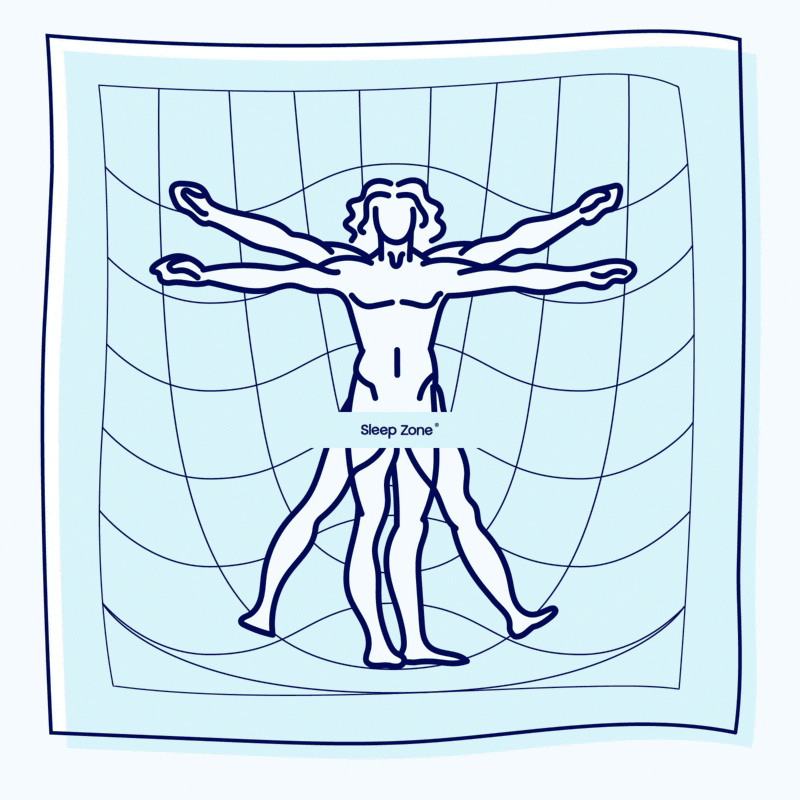 U-shape ergonomic
support design
We designed this comforter with U-Shape design, box-stitching and extra filling in 4 sides. It closely fit human body's contour regardless side sleeper, back sleeper or stomach sleeper.
Keep filling well-distributed and avoid any shifting and clumping.
It's more stable than ever that you never worry about moving.
It can effectively prevent edge breakage and drop lines.
3 sizes for your comforter/duvet

One of the world's largest integrated producers of chemical intermediates, polymers and fibers.
A leading provider of nanotechnology solutions for textiles – Aquapel™ (water repellency), Coolest Comfort (moisture wicking) and more.

One of the world's most well-known textile hazardous substance inspection labels.